Thoughts on CNC woodworking. Is this really woodworking?
Woodworking is something that many people love to do. It is a hobby that has been around for many years and fathers have taught sons how to achieve the results they want using hand or power tools. However, as with all things; there are some who felt that woodworking could be better than ever and CNC woodworking came to be. For some people, it is the greatest thing ever invented for woodworking. For others, they prefer the old, tried and true methods that their father showed to them when they were growing up. What is your opinion? Are you someone who shares our thoughts on CNC wood working or do you have a different idea of how things should be?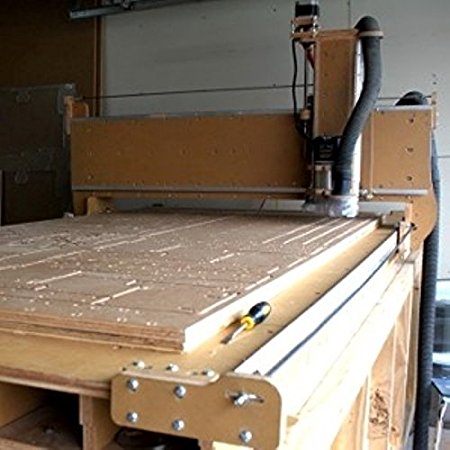 What is CNC Wood Working?
CNC stands for computer numerical control. It is done with a wood router and a computer system. The computer controls the router and ensures an accuracy of cuts that most people cannot achieve without help. The router spins faster than all others with a range of approximately 13,000 RPM to 24,000 RPM. They are most often used with softer materials, but there are machines that are used with wood and they are ideal for engraving or cutting intricate details on it. Their best feature, though, is their ability to cut identical cuts into numerous pieces of wood.
With these machines, people can create engravings on wood that look as realistic as a photograph. In fact, you can take any photograph or image that you want to be cut into the wood and immediately it can become a 3D image. This means you can cut weaving into wood or carve out areas of the wood to create designs with very little effort. All you have to do is program your computer to tell the machine what you want to cut. There are people who make wall hangings out of wood that are shaped as a cross, but has intricate details that would normally cause the wood to bust.

Will CNC Work as You Hope?
There are a lot of people who love this new way of woodworking. It can achieve great things and the people who know how to use it can do extraordinary things with it. However, there are some people who prefer the older way of doing things. The "old school" woodworkers say that it isn't a craft if it is done with a computer. However, since most of our lives are run by computers as it is; it shouldn't surprise you that woodworking has also taken the form of a computer program. It is an easy program to learn, most all people can do it, and it has opened up the doorway for many people who love the idea of woodworking. It has enabled many of our younger generations to take an interest in it. This does not mean that those who learned to perfect their woodworking skills with skill saws and jig saws aren't able to do virtually the same thing. The computer just does it faster and more effectively with less risk of having to start over because you messed up.